An fieldtrip to Whitby will run on Wednesday 16th June.
Schedule  
A complete agenda for the fieldtrip which includes timings will be provided closer to the conference date.   
Departure: We will meet outside the Engine Shed and aim to leave at 8:00 am. The coach should take approximately 2 hours and 30 minutes to arrive at Whitby. We will not be making any stops on the journey, but a toilet will be available on the coach. 
Arrival into Saltwick Bay: The coach will drop us off at Whitby Holiday Park at Saltwick Bay. From here we will follow a mud foot path down to the shore. The whole group will wait at the bottom of the stairs until all members of the party have reached the bottom.  
Beach walk: Once everybody is on the beach, we will walk north from Saltwick Bay towards Whitby. This section of coastline is one of the world's most famous and well-studied sections. We will pass through Toarcian deposits of the Whitby Mudstone Formation and see Middle Jurassic dinosaur footprints. Low tide is estimated around 12:13 pm, giving us plenty of time on the beach. This walk is approximately 1.5 miles long, and there will be a small amount of climbing over rocks involved. 
Lunch: We will break for lunch whilst on the beach. We advise you pack lunch the night before or get it before we leave in the morning as we won't be visiting any shops before we get off the coach. You will have the opportunity to buy more food including hot food (restaurants/takeaways ect) when we are in Whitby town centre. 
Ascent from the shore: Once we reach Whitby, we will leave the shore via a vehicle ramp just below Whitby Abbey. You will then have time to explore Whitby at your leisure. 
Leaving Whitby: The coach will pick us up from Whitby Harbour Car Park for the return journey back to Lincoln. We anticipate a departure time of around 18:00 pm, but this will be confirmed closer to the date.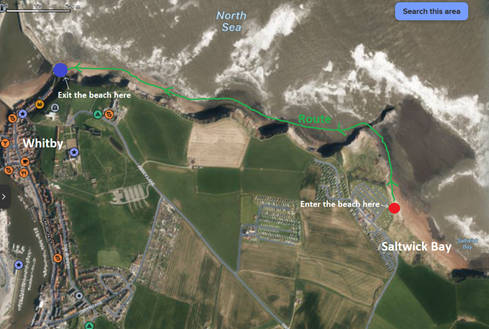 Alternative travel arrangements
We will be travelling to and from Whitby as a group by coach operated by Lincoln-based PC Coaches. Places on the coach are limited to 43, but if you wish to arrange alternative travel (e.g., by car) for yourself you are more than welcome to do so. This also includes if you wish to stay in Whitby longer or travel home directly instead of traveling with the group back to Lincoln. 
Delegates who travel to/from Whitby separately for both legs of the journey will be offered a discount on the cost of the fieldtrip. You must let us know upon registration if you will be travelling separately for both legs of the journey. 
During the conference, we will provide committee contact details to all fieldtrip participants. If you travel separately and are delayed on the way to Whitby, please contact us immediately. We expect you to arrive in Whitby between 10:00 am and 10:30 am, but in the case of any significant delays we cannot guarantee the group will be able to wait and we may set off without you. 
Please also note that parking may not be available in Saltwick Bay. You would need to plan your parking ahead of time and meet us at Whitby Holiday Park. 
Accessibility and inclusion  
Progressive Palaeontology 2022 strives to be as accessible and inclusive as possible, and this extends to the fieldtrip. We have listed all anticipated accessibility concerns below to allow you to make an informed decision whether to participate.  
Unfortunately, no part of this fieldtrip is wheelchair accessible. As a result, a pre-recorded virtual version of the fieldtrip will be available online to all delegates the morning of the trip. Fieldtrip content will also remain accessible for a short time after the end of the content. If any wheelchair users still wish to attend, please contact committee as soon as possible so we can arrange alternative accommodations. However, you will not be able to participate on the geological walk and the coach is not wheelchair accessible. 
We will ensure that all parts of the fieldtrip are as manageable as possible for all abilities. This fieldtrip has been tested against existing accessibility requirements including mobility issues on committee, but we understand that the ability of everyone will differ significantly. Therefore, it is your responsibility to decide if your participation is safe both before and at any point during the trip. 
The walk will involve several obstacles which may be difficult to navigate in the event of reduced mobility. These obstacles include: 
A descent down a mud foot path which includes steps throughout and is very steep at times. A handrail is not available for part of the descent, and the path may be slippery.
Navigating over boulders and loose, uneven surfaces. 
A small climb down a rock face at Saltwick Nab.
Slippery and wet wave-cut platform covered in seaweed. These surfaces may be uneven, with unevenness concealed by seaweed. 
Walking up a vehicle ramp off the beach. 
In the event of bad weather, all these conditions may be worse than anticipated.
If at any point during the trip you believe any part is beyond your ability or you need to tap out, please let a committee member know immediately and we arrange appropriate the safest possible accommodations. However, once we are on the beach there will be no exits off the shore until we reach Whitby. Please note the safest option may be to continue the walk.
Regular stops will be scheduled during the walk to accommodate those who may need to rest more frequently. There are no toilet facilities available between Saltwick Bay and Whitby, so we recommend using the one on the coach before we descent. However, we intend to bring a portable camping toilet and pop-up tent cubicle to make a private area at several of the stops. 
Committee will carry extra water in case you need it, as well as other essential supplies, but please bring your own if you can. In Whitby there are plenty of public toilet facilities. These cost 40p to enter, but accept both cash and card. Many restaurants and cafes also have facilities. 
Upon registration, please tell us of all accessibility requirements you may have during the trip so that we can make arrangements to accommodate your needs in advance. 
COVID statement
Despite the relaxation of all COVID-19 restrictions in England, we will be enforcing strict mask rules on the coach at all times. Masks may be removed briefly to eat or drink but must be worn unless you are medically exempt. This is to ensure the safety and inclusion of all participants who are vulnerable or might otherwise avoid the field trip due to mental or physical concerns. Masks will not be required outside of the coach. 
All participants will also be required to take a lateral flow test the morning of the fieldtrip and are expected to isolate in the event of a positive test.  Lateral flow COVID tests will be provided as part of the conference welcome pack, but if you require more and cannot afford to buy more to test for the fieldtrip, please contact a member of committee the DAY before. We will not accept you on to the coach if you have not tested before you arrive. 
Fieldtrip financing 
We understand that not every participant will have the same financial advantages as others. Therefore, we aim to reduce or support as many fieldtrip costs (including hidden costs) as possible. If you think you will require financial assistance, including not being able to afford to come and equipment costs, please contact committee as soon as possible so we can organise assistance in advance.